Covid-19 Booking Terms
In this time of uncertainty we hope that our guests can look ahead to a time when life can resume more normal rhythms, and consider joining us again here in Zermatt to enjoy our pristine pistes, clean mountain air and peaceful, secluded chalets; however we understand that making a commitment to travel at this time is not without worry. We would therefore like to reassure anyone looking to book with us that your peace of mind is our top priority; our valued new and existing guests are at the forefront of our mind during these times and we hope that our flexible Covid-19 cancellation policy, combined with stringent new hygiene procedures, will reassure and help you feel confident booking with us for the seasons ahead.
Our beautiful, stand-alone properties offer a "home-from-home", with spectacular Matterhorn views from your private terraces, and sensitive staffing tailored to your preferences; we offer complete privacy to enjoy your much-needed holiday, and our concierge team are on hand to assist with travel arrangements & plan your perfect stay.
We look forward to welcoming you back to Zermatt.
Elysian Collection.
Cancellation Terms
Cost-free cancellation guarantee 14 days prior to your arrival date* if the following Covid-19 reasons for cancellation are applicable at that time:
Country border closures preventing travel from country of departure or arrival to Switzerland
Lead guest country of travel origin being added to Swiss mandatory quarantine country list (i.e. countries where guests arriving from these countries are required to complete a period of quarantine upon arrival into Switzerland)
In the event of the above you will be refunded 100% of your booking cost.
If changes to the above occur in the 1-13 days prior to your arrival date and render you unable to travel, you will receive a refund of 85% of your booking cost.
It is the responsibility of the guest to fulfil any reasonable entry requirements to Switzerland (e.g. vaccination or certificate of recovery requirements, testing requirements, entry forms) and a failure to fulfil such reasonable requirements will unfortunately not be accepted as valid reason for cancellation.
*alternative Terms applicable to Peak weeks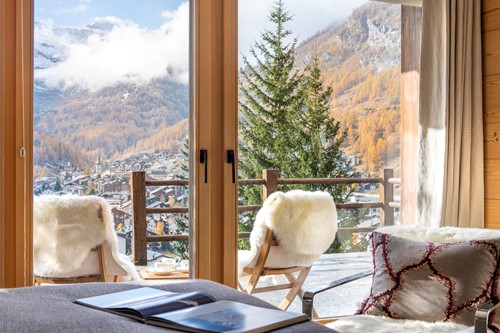 Hygiene Measures:
We believe it is important that we all play our part in helping to reduce the spread of Covid-19 and we want to reassure you of the steps we are making to take the stress out of holidaying -
Safety and hygiene will be our top priority, with rigorous cleaning and sanitising in line with up to date recommendations
Staff health & temperatures will be carefully monitored daily
Masks and gloves will be available in chalets for those guests who wish to use them
Hand sanitizing gel will be available throughout chalets
Staff will be comprehensively trained in the latest COVID hygiene protocols and procedures
Our Concierge Team will be on hand to help guests with travel & holiday arrangements, including assistance booking private flights, luxury private road transfers and relaxing, socially-distant in-resort activities